Paul Yee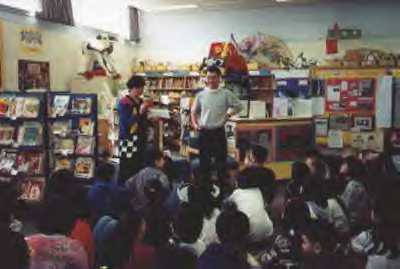 Click on photo to go to his home page.



" Born October 1, 1956 in Spalding, Saskatchewan, Canada.
" One of three children who grew up in Vancouver, British Columbia, Canada with an aunt after his parents died.
" Presently lives in Toronto, Ontario, Canada.
" Liked reading adventure books about faraway places, and a bit of science fiction when growing up.
" Has received nine awards for his writing including Prix Enfantasie from Switzerland, Ruth Schwartz Children's Book Award (1992 and 1997).
" Hobbies are swimming, jogging and taiko (Japanese drumming).

www.canscaip.org/bios/yeep.html
http://24.72.1.30/school/mcmillan/author%20project/Raymond/Yee1.html
www.papertigers.org
http://home.ca.inter.net/~paulryee/
www.library.ryerson.ca/library/events/asian_heritage/yee.html
www.track0.com/ogwc/authors/yee_p.html
www.writersunion.ca/y/yee.htm

Published Children's and YA works:

Yee, Paul. 2002. The jade necklace. Illus. by Grace Lin. Vancouver: Tradewind Books.
________ 2002. Dead man's gold and other stories. Illus. by Harvey Chan. Toronto: Groundwood Books.
________ 1998. Boy in the attic. Toronto: Groundwood Books.
________ 1996. Ghost train. Illus. by Harvey Chan. Toronto: Groundwood Books.
________ 1994. Breakaway. Toronto: Groundwood Books.
________ 1991. Roses sing on new snow:a delicious tale. Illus. by Harvey Chan. Toronto: Groundwood Books.
________ 1989. Tales from gold mountain: stories of the Chinese in the new world. Illus. by Simon Ng. Toronto: Groundwood.
________ 1986. The curses of third uncle. Toronto: James Lorimer.
________ 1983. Teach me to fly, skyfighter! and other stories. Toronto: James Lorimer.

I have listed these books, as they relate to children and YA. Paul Yee has written three other books but they are for the adult reading community and are considered history books. These books are:

Struggle and Hope: The Story of Chinese Canadians - 1996
Saltwater City: An Illustrated History of the Chinese in Vancouver - 1988
Building the Railway: The Chinese and the CPR - 1999

Analysis:

I read four books by Paul Yee: Roses Sing on New Snow: A Delicious Tale, Tales from Gold Mountain: Stories of the Chinese in the New World, Ghost Train, and Breakaway. I found reviews for two of these books (Tales from Gold Mountain and Breakaway) at www.umanitoba.ca/cm/cmarchive. The first three books listed fall in to the genre of folk tales. While these are original works, they are based on Chinese culture that the author developed to express difficult issues surrounding Chinese in Canada. Much of the background for these stories was gathered while he did volunteer and research work in Chinatown in Vancouver. He began this voluntary work as a result of his own racially biased comment that he made in a workshop where he stated, "Why would you want to talk about them? They were just a bunch of coolies!" Paul Yee states also that this was a time of rebirth for him into the community from which he had been disconnected. Having recognized his people and his community beyond the family, he became heavily involved in this community.

In his folktales he writes about difficult issues: racism, prejudice and dishonesty in such a way that children can internalize the stories and the part of history and culture that they represent. Ghost Train relates to the many lives lost in the building of the railroad in Canada which can easily be compared to the same events in the United States. The eight stories in Tales from Gold Mountain also include the workers on the railroad. In each of the tales the reader gains insight into a piece of culture brought from China, i.e. souls don't rest until a proper burial/offering. We also find a deep sense of wrongs being corrected both by people or by fate. The angle is slightly different but you still come up with a type of happy ending. In Constance Hall's review, she recommends these stories for reading out loud or for book talks thanks to the spirit world and the shortness of each tale. Roses Sing on New Snow is written in the same type of style. In this story, the theme is the correcting of dishonesty by the father and his two sons concerning his daughter. In all three of the books the use of illustrations is effective and helps deliver more impact rather than detract from the story. Students could be put on a hunt to find folk tales, fairy tales etc. from other countries that compare to the basic plot. Students could also look into the history of the building of the railroads in Canada or in the United States.

In Breakaway Paul Yee has changed to a novel rather than a short story. All of the issues found in the folk tales are included. Additionally in the plot, Yee deals with the marriage arrangement custom (sexism) with the sister, Ying. Another subplot throughout the story is the continual friction between father and son. Kwok-ken is excluded from the white community despite his good grades and his soccer abilities. The book lets you know that he has undergone teasing and humiliation throughout his life. He does not associate or feel connected to Chinatown but he believes this to be due to his clothes, his smell from raising pigs, and that he lives on a farm away from Chinatown. Margaret Mackey in her review mentioned that his alienation from his culture was due to their drinking and gambling. Actually I felt this was due to his father having been cheated at cards and separating himself and the members of the family from the community. Kwok-ken does become a member of his community in the end through the soccer team they have. Since this story is placed in the time period of the Great Depression, a comparison could be researched again between Canada and the United States.

Overall Paul Yee's books were easy to read and although the situations and issues were intense, they were handled in a way where the reader can digest the information and come out with a deeper understanding of parts of the Chinese culture from Old World to New World. Comparisons with the issue of being disconnected can be connected to other cultures such as: Maizon at Blue Hill. This should lead to a healthy discussion in that the issues are more universal and have been and are being reflected from many peoples in many lands. This hopefully will begin to make students aware and begin to find ways to break down these prejudices to promote peace throughout the world.